Dr. Suk Hahm lost his sight when he was 19-years-old. But he was still able to see a bright future for himself in the world of acupuncture, massage, and Chinese medicine.
In Korea, when Hahm was growing up, it was standard for the blind to attend a separate school where they were taught acupuncture and massage. So, at a young age, Hahm mastered his craft, and like a man on a mission, he took it and ran… all the way to the US.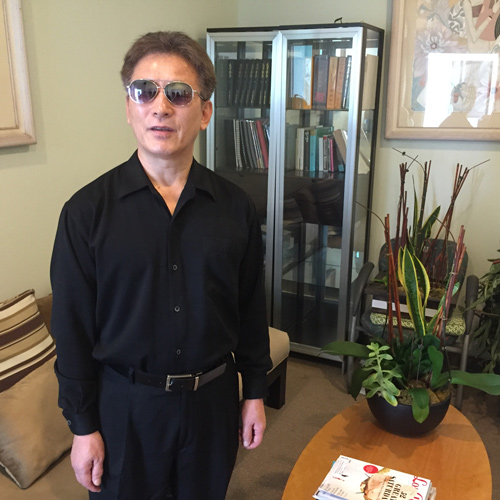 "My favorite story of him coming here was on the way from the airport," Dr. Hahm's son Lambert told Connect With Life. "He needed to start business right away so he grabbed the person next to him and said 'do you want me to massage you?'"
Apart from the love of his craft, Hahm had always been in enamored by what he called "The California dream." That's what made him move his practice—as well as his life—from Korea to the United States at 27 years old. His brother had already lived in the United States for some time, so with some family support, $7 in his pocket, and a lot of ambition, Hahm set off to establish his practice in a new country.
For the past 23 years, Hahm Rejuvenation has been offering holistic healing from the same second-floor window-front in Los Angeles to very high profile clients that include Julia Roberts, Jessica Simpson and Elon Musk.
Even still, his focus is on healing, and not on the fame of his clients. "Famous or not famous, I don't care," says Hahm. "A body is a body."
His humble presence is what makes Dr. Hahm such a trusted healer in the field. Some of his most popular treatments outside of basic acupuncture include Shiatsu Massage and a Eucalyptus Body Scrub with plants fresh from Malibu.
"Shiatsu massage is pressure points, energy points, or chakra points around the body," says Dr. Hahm. "It's balancing."
Balancing the body's energy is central to Dr. Hahm's practice. His work can treat multiple forms of stress that have taken physical form. "A lot of people who can't have babies come to him and he does acupuncture and shiatsu massage and a lot of them actually got pregnant," says Lambert. "He helped many many couples try to conceive."
Dr. Hahm is also trained in diagnosing clients through simply by feeling their pulse. From there, he can tell where each patient's ailments are rooting from and prescribe an herbal medicine to treat them.
Ancient Chinese medicine has been gaining popularity for its natural healing process as opposed to the chemically charged prescription drugs that can lead to unwanted side effects. His healing resume is far too long to list, however he's not slowing down anytime soon – his practice is open 7 days a week.
Rates run between $55 – $95 depending on treatment type. For reservations visit HahmRejuvination.com.
Happy Healing!