The idea that packaging is just as important as the product is an all too familiar concept for shopping connoisseurs.
PUMA took that to a new level when it linked up with the sneaker gurus and wildly talented photojournalists at Team Cozy for a Gallery style launch of its Blaze of Glory sneaker line in Los Angeles last week.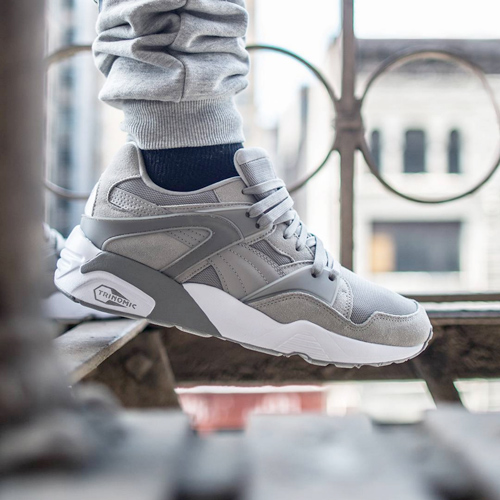 "The inspiration behind this project was photos of LA, people backing up our community, and finding new, young talent in LA," Silas, the founder of Team Cozy told Connect With Life. " "Not only could PUMA put money on the table to support us, they really believed in what we were doing. It was more than a collaboration, they are supporting bringing the whole team to a certain city and doing something really cool."
Though the Team Cozy mantra is bringing communities together and supporting creativity collectively, they admit that their growth started very small and grew organically."Team Cozy all started with a hashtag on instagram. Me and my buddy Ta Ku were messing around one day and then we created a language," says Silas. "People have been wearing sweatpants and sneakers forever, so we created a language for that. Whenever someone was taking a picture of sweatpants and sneakers it was always – that is Team Cozy."
Out of this hashtag on instagram Team Cozy found their core team, which is made up of fourteen guys. PUMA then stepped in, helping them to showcase their work on a new platform, to a larger audience.
If you're wondering what it takes to create an online presence and have one of the biggest fitness brands in the world notice you, Silas had some advice to share. "It's no good doing it by yourself, find friends or good people that can inspire you," says Silas. "Go to different places and try to not always shoot by yourself because there is only so much you can do. When you are in a community with friends and family you find more to shoot."
Once you realise that you need people around you to create a movement, you must then be picky about who you choose."Everything we shoot really resonates with street fashion and shoe culture," Johnny Castle, the Head of Video Production at Team Cozy says. "So we all came together when they built this team of people."
Castle loved collaborating with PUMA because of the amount of creative license they were given. "Puma is definitely one of the companies that is up with more innovative stuff," says Castle. "They gave us free reign to do whatever we want which was so cool."
Free reign along with perseverance and dedication were the take-home messages of the night. "Everything we do from our inception was social media, that is how we gained our entire following," he said. "For those trying to do the same, keep doing sh*t! Our team came together because we were all doing our own thing, and building a voice for ourselves. As long as you keep putting your work out there, someone is going to bite."
Thank's for biting PUMA!