She stirs your soul with Stevie Wonder in Apple's feel good holiday video ad 'Someday at Christmas,' but Andra Day has her own solution to warming her heart over the holidays and beyond—her dog Lucia.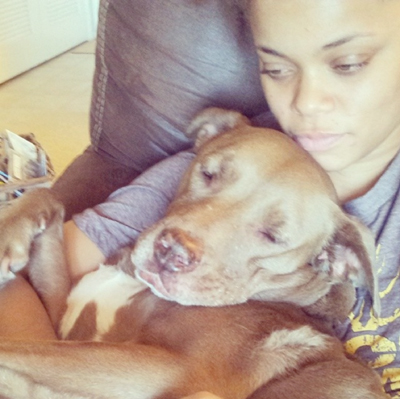 "She makes me happier," the soul singer said at the THE ALL-STAR DOG RESCUE CELEBRATION that aired on Thanksgiving. "You know what I mean? She changes my mood. It's really funny, It's hard doing all this traveling and not being able to see her as often as I would like."
In looking to solve her dog woes while on tour, the thought of applying for service status did cross her mind.  "I almost thought about going to get a service dog license to be like; 'I have anxiety when I'm not around her,'" Day joked. "Because she really changes my mood she relaxes me, it's amazing."
Instead Day will opt for Facetime when she goes on tour with Leon Bridges in March of 2016. "Fortunately, my sister is amazing, she watches Lucia for me," Day said. "We Facetime every day. Every time I see her I'm just like, my baby!"
The warm and fuzzy feeling she gets in person with her dog is just as good via Facetime.  It's all the love and so much more according to the artist. "Dogs don't judge you, there's no pressure. Other than loving them and showing them affection and taking care of them, they don't need anything. They just love you exactly the way you are and just want to be loved. So It's very nice to just sit there and feel her relax me. You know what I mean?"
We sure do!