Typically patients undergo rhinoplasty surgery for two reasons, they either want to improve an obstructed airway, which makes breathing difficult, or they simply do not like the look of their nose.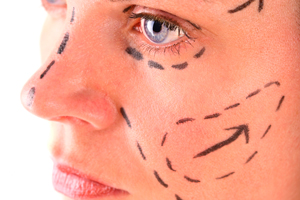 In addition to the risks and benefits of the surgery, another important factor is the cost. It's hard to narrow this surgery cost to a specific number because it varies per the patient and their specific condition. Depending on the complexity of the surgery, the surgeon's reputation and level of expertise and the location of the surgeon's practice, the surgery can range from $3,000 to $15,000.
If you are looking into functional rhinoplasty to improve your health the surgery may be partially or fully covered by your medical insurance. If you are only looking into rhinoplasty because you are unhappy with the appearance of your nose it will be an out of pocket expense.
Surgical Location Cost
Private surgical suites, typically located in the surgeon's office, are the least expensive. The costs range from $1,000 to $3,000 per procedure. Advantages associated with this kind of location include the doctor being familiarized with the facility and the likelihood of them working with the same staff members who have assisted in many previous surgeries.
Ambulatory surgical centers are more expensive than private offices because they are third party owned. These locations provide everything the surgeon needs to safely perform a rhinoplasty. Ambulatory surgical center fees are usually around $3,000 for a single rhinoplasty procedure.
Hospitals are the most expensive facility choice. They are also however, very well equipped to assist in uncommon cases, such as those where patients end up with excessive bleeding, or other risks. Having surgery in a hospital also puts many patients at ease about undergoing the surgery in the first place, which sometimes outweighs the burden of the higher cost.
Anesthesia 
A lot of patients are put to sleep to prevent them from feeling pain during a rhinoplasty procedure. Some cases are treated with local anesthesia but not all. Depending on who administers your general anesthesia the costs may vary. A registered nurse will cost about $300 per hour while an anesthesiologist will cost about $500 per hour. Typically, a patients choice of anesthesiologist will be guided by their surgeon as well as what the patient is most comfortable with.
Extent of Treatment 
Factors that can complicate the procedure will increase the price of the surgery. If the patient has experienced multiple nasal injuries, needs cartilage grafts to strengthen weak areas, has particularly thick or thin skin, nasal abnormalities, or nasal obstruction the surgery will cost more.
Pre and Post Operative Cost 
Depending on the patient, there may be several pre and post operative appointments as well as the surgery itself. The consultations, preparatory appointments, and follow up appointments are all costs to consider.
Medication 
Patients may need pain medication or antibiotics during recovery, which is not usually included in the overall surgery and is an additional cost.
Side Affects 
Some patients may experience side affects after surgery that may pose additional costs. For example, an increase in acne breakouts may occur or darkening of the skin. To reduce hyper-pigmentation some patients get laser treatment to even their skin tone which can cost about $3,000.
Bed Rest 
One of the indirect costs of undergoing rhinoplasty is the time the patient is unable to work. You should consider the amount of time you will need to take off work as well as possible additional time if there are complications after surgery.
After discussing all of the costs associated with a rhinoplasty you may think it's over your budget, but many surgeons offer financing options. These options can be very beneficial to patients who cannot pay for surgery upfront. It's a discussion worth having with your doctor, if you really want to undergo the procedure.