It's Monday and many of you are probably planning your date for the week. If you're using an online dating service then it probably means you're casually texting back and forth with a few potential dates right now (or twenty— Tinderers, we're looking at you!).
So why is it that we're able to text back and forth with complete strangers so easily but when it comes to the real deal we fall short?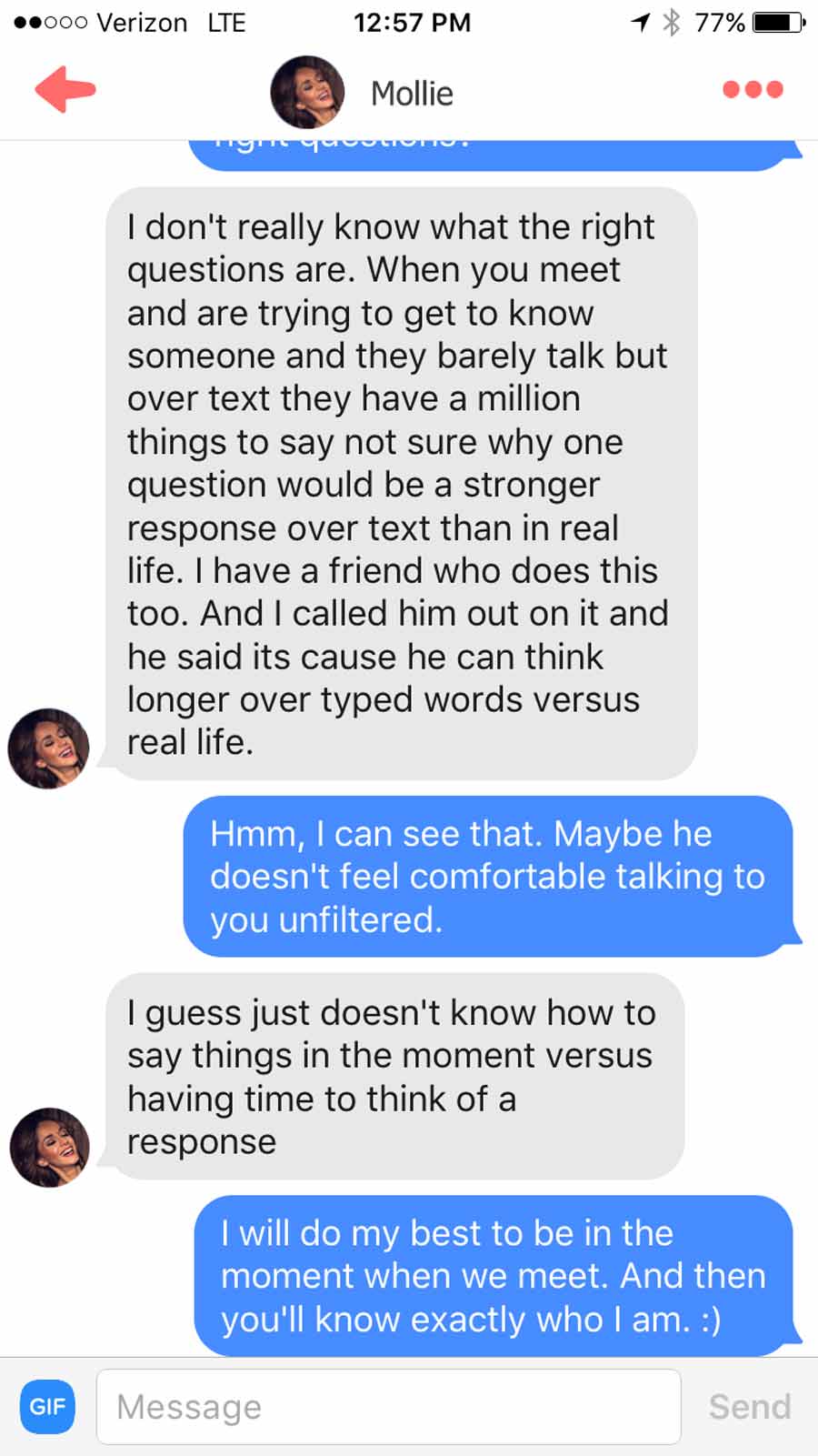 Well it boils down to one pretty simple reason…

You can be whoever you want over text!
Read more: What's a Girl Like You Doing on an App Like This?
Our expert dater at Connect With Life (let's call him Andrew) was kind enough to share some screenshots of a convo he recently had on Tinder (we've also changed the profile picture and name of his Tinder match).
What we see in this exchange is Mollie, our Tinder match, describing a friend of hers who is prone to giving thorough responses to typical dating questions over text but can't come up with the words on a real date. Mollie's friend explained that "he can think longer over typed words versus real life" and while this is certainly true, we all know there is more to why texting is so much easier than the real thing.
My next question is, does texting give an honest impression of who you are?
In some cases, yes. But if you're taking 20-30 minutes to craft the perfect response to a simple personal question then chances are your matches aren't getting to know the "real" you. They are getting to know a much more contrived, affected and filtered version of you.
A shy introvert who just wants to stay home and watch Game of Thrones on Sunday can come off as sly and mysterious… Which is great if you're trying to write a steamy novella but the reality is when you finally meet up for the date the truth is coming out whether you like it or not.
Read: The Pros and Cons of the 9 Biggest Dating Apps
So you may as well be honest, up front and real. The quicker you respond to those questions the more likely they are to be true to who you are and more importantly they give your match a better idea of who they're meeting up with. Ultimately you're looking for a good match so save yourself the time and disappointment and just be honest!