Poundfit is the world's first cardio jam session class that is inspired by the fun of playing with drumsticks. Poundfit incorporates the use of Ripstix, which are lightly weighted drumsticks that are specifically engineered for exercise. POUND transforms the movement of drumming into an incredibly effective and fun workout.
What is different about pound compared to other workouts is that you become the music instead of listening to it. The full body workout incorporates the combination of cardio, conditioning, and strength training with pilates and yoga inspired movements.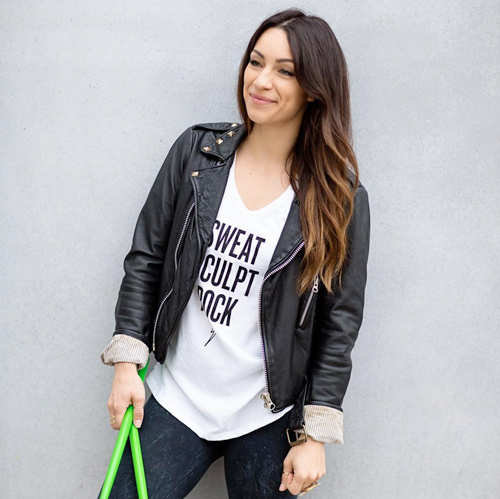 Kirsten Potenza, the CEO and Co-Creator of POUND: Rockout Workout leads her body, life, and business with the same mantra inked along her right foot –  'Be Good. Do Good.
Potenza grew up in a tiny town in upstate New York and began playing sports at the age of 5, eventually becoming a Division One athlete at UCLA. After she left college and was no longer playing team sports was when she realized there was a shift in what motivated her – and others – to workout. 
"I went from working out with purpose, camaraderie, and lots of cheering, to moving my body just to look better – it didn't feel right." Potenza designed POUND to be something that connected people directly with the beat, using music as an escape to empower and motivate. She believes strongly that a workout should feel as powerful and moving as playing or listening to music.
 Potenza founded POUND at the age of 24 and today POUND transcends the common experience of the gym through the fusion of movement and making music. Potenza has appeared on Live with Kelly, The View, The Steve Harvey Show, Good Day LA and was recently named one of NIKE's 2016 LA Influencers. Check out POUND on The Steve Harvey Show below:
"Human beings are yearning for human connection and want to be part of something that's bigger than a workout." says Potenza. She feels that movement should serve a purpose and have purpose— that fitness should be about how the body performs, and feels – not how it looks. 
As a company, Poundfit aspires to change minds before bodies and creates a space and an environment where everyone feels welcome and accepted.
 Poundfit is nearing ten thousand trained instructors in fifty countries and has a youth program in development. Potenza feels strongly that POUND and its passionate community have the ability to shift the fitness conversation and be a catalyst for change. 
Although she's been active, and an athlete ever since she was five years old Potenza wasn't introduced to the "F" (fitness) word until she was about 22 years old.
Whether she was aggressively skating through routines, practicing her handstands or leading her team through a (rowing) race, movement has always served such a positive purpose in her life. Being an athlete and being on a team has taught her more about leadership, loyalty, hard work, and determination than anything else.
Inspiration Behind POUND
When Potenza's athletic career was over she was catapulted into the world of fitness in Los Angeles. The focus and intention behind being fit went from the way her body performed, to a focus on what she looked like. All of a sudden her fitness and wellness journey went from purpose to pressure. The one thing that Kirsten and her co-creator Cristina both felt good about was listening to and playing music. They knew that if they could find a way to transform the feeling of playing and listening to music into a workout, they could potentially change the gym experience for people around the world.
What does the workout consist of?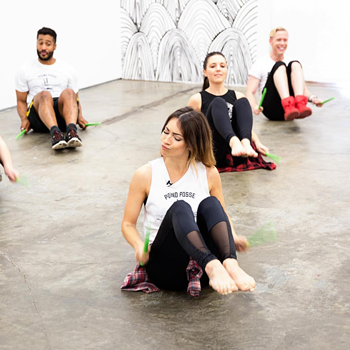 Instead of counting reps or keeping track of the clock, POUND strategically distracts you from the high-intensity and duration of your workout, and shifts your focus to rhythm and volume. Each 2-4 minute song is carefully calibrated with interval peaks and extended fat burning sequences, providing you with the best workout in the shortest span of time. After you're done rocking out in a 45-minute POUND class, you'll have completed up to 15,000 reps, performed over 30 extended interval peaks, and whizzed through more than 70 techniques without even realizing it!
Who do you recommend should be doing this workout?
POUND welcomes participants of any age, level, and ability and musical preference through flexible programming, diverse and exciting rhythms, exceptional instruction, and good old-fashioned fun. The instructors implement their tiered modification system within every track to ensure that the workout suits the needs and ability of any age or level of participant.
Is it for both men and women?
Yes! The workout is easily modifiable and the alternative vibe and welcoming philosophy appeals to men and women of all ages and abilities. 
When did POUND start, and when did it launch?
POUND started in Los Angeles in 2011. In order to expand with quality and thoughtfulness, POUND created a training program and began training instructors in major markets.  POUND has now reached international acclaim with a network of over 7,000 instructors in 35 countries.
Where can you take a POUND class, and how much does it cost?
Classes and trainings are all over the country, as well as abroad. Find the class nearest to you. Class costs depend on the venue, and it is recommend that you check with them regarding pricing.
What does the POUND community stand for?
POUND is families of Fitness Rebels born to standout make noise and disrupt norms. They turn workouts into Jam Sessions and they're not afraid to turn up the volume, in class, as humans, or in life. As a community, they believe that they have the ability to inspire a nation, to turn the fitness world on its head, and to truly find alternative ways to ROCK. POUND POUNDs with passion and aims for progress. POUND aspires to change minds before bodies and uses beats to launch people to new heights of self-worth, happiness and human connection.
Interested in POUND? Check out their YouTube channel to preview POUND before trying it out!