You know the saying, "Baby it's cold outside!" Well, that may be true, but just because the local grizzlies have gone into hibernation doesn't mean it's time to build a pillow fort and spend the next few months in a Snuggie
Whether you're stuck in the Canadian tundra or frozen in fear by the cool breeze that is tormenting Tucson, I feel your pain: When it's cold outside, even simple tasks like getting out of bed can leave you hurting. Your car locks are frozen shut and you are so cranky, you've decided to wait for spring before you dust off your running shoes again so you can get back to the outdoor activities you love.
Unless you've already arranged for a timeshare in Cabo, you need to face the facts of life. No need to drown your sorrows in winter Saki. There are plenty of fun winter sports and activities that can keep you active—not to mention, sane—during this time of year. Let's have a look at four fun things you might not have considered:
1. Snowy Escapades That Make Your Forget That You're Exercising
If you live in a snowy climate and you find yourself snowed in more often than not, why not make the most of it and turn it into some quality family time? Grab the kids, the hubby, and even the dog, and head outside. Spend an afternoon making snowmen (or snow "people"… come on, it's 2016!) and challenging your teens to a proper snowball fight (seriously: Google "Japan's epic snowball fight" and get pumped!). Or, you can keep the peace by turning it into a team effort by strapping on some snowshoes or cross-country skis and racing your kids down to the library and back. Bonus for anyone who will sing with you: "Dashing through the snow…" Make it a spontaneous outing, or a weekly tradition. Either way, it's exercise disguised as fun. And you'll end up spending time with your loved ones, which is the goal anyway.
2. Homebody Ventures That Keep You Fit Indoors
If you can't bear the brutality of the great outdoors, why not opt for something active inside your own home? Thanks to Al Gore and his famous Interweb, we now have an entire repository of workout videos available to us at the click of a finger. The dreary winter months are an excellent time to follow along with those restorative yoga videos you've been thinking about.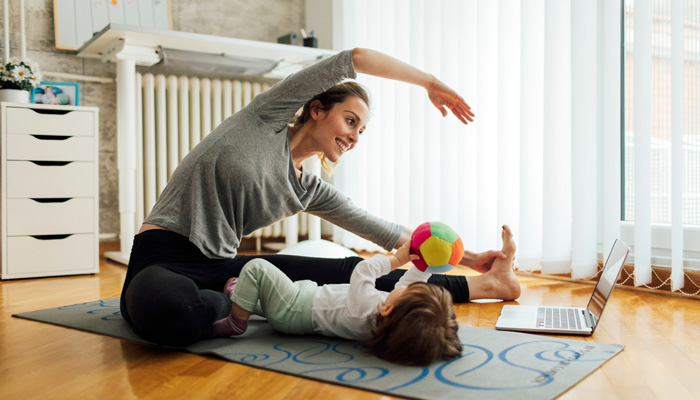 There are truly an endless number of workout series that can keep you active—and on the road to bikini-ready—by the time summer rolls around. One of my favorite home workouts is the Ten Minute Trainer Workout from Tony Horton, creator of the popular P90X series. It's not free, but it's well worth the investment, in this heifer's opinion. You want results? This workout delivers. Not to mention, it's manageable. You can do anything for ten minutes. And you'll all but forget about the winter blues because you can do it from the comfort of your home. Score!
3. Kitchen Capers to Keep It Healthy
Winter cooking takes on a whole new meaning when you decide to eat healthy. Why not take this time to familiarize yourself with some new recipes that utilize traditional winter veggies?
From kale to squash and back again, you can go from line cook to head chef in no time at all, given the many months you have to perfect your new skills. And if you don't know a paring knife from a cleaver, consider joining a cooking class or club to learn the basics. You're likely to meet some new health-conscious friends, and you'll have a blast gaining a culinary education.
You might even consider growing your own herb garden, which is easily done indoors, or your own kitchen windowsills. Come springtime, you can transplant your herbs into your garden outside and show off your snazzy new habit by the time summer rolls around. Who doesn't love fresh basil in their salad? What about fresh rosemary in their rosemary lemon chicken? Even your kids will be impressed when you drop a sprig of fresh mint in a pitcher of lemonade after soccer practice. Whether or not you're working out at your regular tempo during the winter months, eating healthy is critical for your maintaining your sanity and ensuring your future success.
4. Gym Feats to Get You On Your Feet  
You might be a trail runner in the warmer months, but find yourself unmotivated and moody during the winter. Why not join a gym for a few months and beat the winter blues by trying something new? Signing up for spin class could curb your boredom and push you further along to your goals: That's the magic of cross training. If you're still thinking of that spring race, many gyms and recreation centers have indoor tracks that will keep you from falling asleep on the "dread-mill." Of course, most gyms also have new class offerings that will keep you on your toes: You might find a local Tabata class or Pound, the drumming fitness classes. Don't be afraid to venture out. Put yourself out there now, and you're more likely to put yourself out there when it's pool time. Plus, let's be honest: Your friends are going to ask you why you're carrying drumsticks in your purse. You know you can't wait to tell them.
Bottom line: Winter doesn't have to be bleak and blah. If you're willing to shake things up a bit, you're sure to reap the benefits, whether that means getting a head start on spring training, or just keeping up so you're not falling behind. Freezing your butt off and sticking your head in the snow is not a good strategy. Keep your muscles warm by staying active and staying committed to your long-term goals. And have fun while you're at it: win-win!
They don't call it "win"-ter for nothing.