"Above all, I want kids to feel comfortable and happy when they wear my clothes!"  Shaadee Mae told Connect With Life, and that message rings true throughout her debut children's collection.

It's not every day we see something fresh and unique in the children's wear world but when an LA based designer named Shaadee Mae decided to create an all natural unisex children's collection it turned our heads.
"Everything is designed and made in the USA [LA to be specific] and I only use the highest quality 100% natural fibers/plant based fabrics." Shaadee told Connect With Life. "I find that if something is made with synthetic materials— even if I think it's a super cute piece— I won't buy it! It's just something I feel really strongly about and wanted to reflect in my brand."
Shaadee Mae who worked in the corporate design world for nearly a decade was becoming disenchanted with 'fast fashion' and wanted to do something new. "I want to move away from trends and fast fashion as much as possible and create high quality products that are classics and can be passed down to siblings and friends."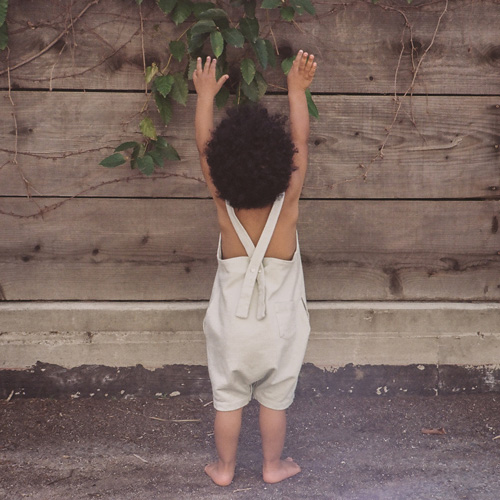 A designer with this mentality is so refreshing in a world which is constantly pushing cheap 'throw-away' clothing that only lasts a season and often ends up in a landfill. We recently covered a collaboration between M.I.A. and H&M which aimed to shed light on this very issue. But it will take designers and trendsetters like Shaadee to really change the way we buy our children's apparel.
So what inspired this young designer to create a collection as fresh as this?
"​I had the idea to start the line by doing a collection of uni-sex style jumpsuits.  I have been living in my jumpsuits and I thought it would be so fun to create styles that could be uni-sex" says Shaadee. The pieces which are adorably modeled by both boys and girls alike are part of a growing trend we've seen with other big brands like Zara who are also creating unique gender neutral collections. "Today I feel like there are so many styles that work across gender lines. My own style tends to be pretty gender neutral so it's something that I gravitate to naturally."
"Its how I personally like to dress and it's certainly how I will dress my phantom kids [when that times comes]"
We look forward to seeing what Shaadee Mae has to offer in the future! "I will also be offering limited edition pieces that I hand dye myself from foraged plant based materials such as avocado pits, loquat leaves, pomegranate rind, onion skins, etc." said Shaadee Mae. "It's amazing that with a little bit of research and foraging we can collect the right materials from the earth to create beautiful colors and vibrant tones."
You can keep updated with Shaadee's progress and take a look at where she gets some of her inspiration on Instagram. Her collection will be availble on her website ShaadeeMae.com near the end of May so stay tuned for updates!