Unfortunately images of children in India and M.I.A.'s native Sri Lanka rummaging through mountainous landfills searching for anything of value are all too common. At least M.I.A.— who keeps one eye on her art and another on travesties like this— is using her platform to raise awareness. This week the Paper Planes artist announced she would be collaborating with H&M to bring attention to the need for reducing the amount of waste produced by the apparel industry.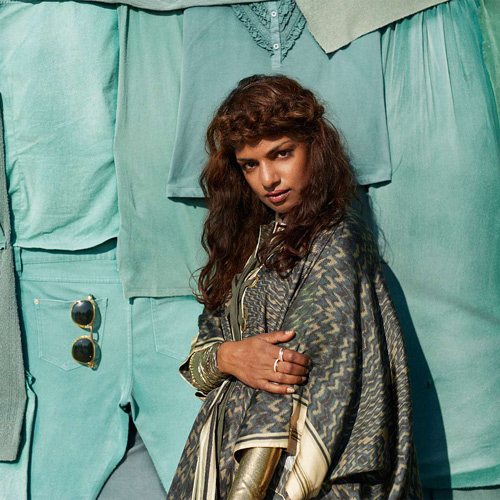 On April 18th, a global initiative 'World Recycle Week' will be set in motion. During that week H&M hopes to collect a thousand tonnes of clothing. How are they going to do that? Well, the mega-retailer who has been criticized for producing 'throw-away' apparel in the past will be urging people to bring their unwanted clothing (of any brand) to any of their 3,600 stores and in return they will receive vouchers for 15% off their next purchase.
Before you scrutinize, H&M has promised they will "…invest any money we make from this service into social projects, as well as research and innovation projects on how old textiles can be turned into new fibres."
To help promote this project M.I.A. will be releasing a new music video on April 11th via hm.com that highlights these same issues. Obviously this won't be your average PSA. If you've ever seen one of her videos you know, they are controversial, socially aware and oh so fun to watch. All the qualities we've come to love about her!
If you're curious about what H&M will be doing with your used garments (we know that sounds creepy) they've given us a simple breakdown of how exactly they'll be recycling them. This may sound familiar but it's all in the 3 R's. Reuse. Re-wear. Recycle. Ok it's not the same old 3 R's we grew up with but the concept here is great. Old clothes and textiles will be "reused" and turned into other products such as cleaning cloths. Clothes that are intact and still of value will be sold as second hand clothing to be "reworn" by someone new. Everything else will be "recycled" to produce textile fibres and other things like insulation.
So start collecting your old clothes for World Recycle Week and stay tuned for M.I.A.'s new music video to be released on April 11th. In case you need a reminder of how badass M.I.A. is when it comes to making a socially conscious statement, check out the video for Bad Girls below, which turned our eyes to the issue of Saudi Arabia's ban on women driving.