Prince William, father of two, published a letter on Father's Day championing mental health for the campaign Heads Together — a UK mental health advocacy organization. In his open letter on their website, he opened up about the challenges of fatherhood and voiced the importance of mental health awareness.
"Today I celebrate my third Father's Day as a father. For me it is a day not just to celebrate how fortunate I am for my young family, but to reflect on just how much I've learned about fatherhood and the issues facing fathers in all walks of life," he wrote. "In particular, it is a time to reflect on my responsibility to look after not just the physical health of my two children, but to treat their mental needs as just as important a priority."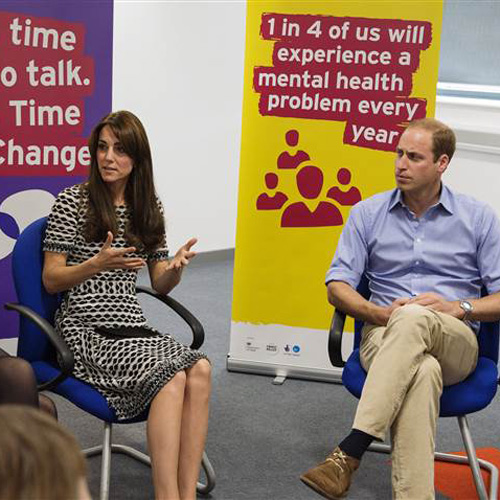 William helped launch Heads Together just last month with the help of his wife Catherine, Duchess of Cambridge, and his brother Prince Harry, with the aim to focus on mental health and remove the stigma it comes with. In the letter, Prince William focused on the importance of both parents and society becoming more accepting.
"While the circumstances of any one situation are unique, it is clear that many families could have been helped if they had found it easier to talk openly about mental health challenges in the home," he wrote. "And, I have been really disheartened to learn that even with all the progress made in recent years, many parents would still be ashamed if their children had a mental health problem."
According to his letter, recent surveys have shown that one third of parents would feel like failures if their child had a mental health problem, and over half of parents have never openly discussed mental health with their children. Prince William chose Father's Day specifically to speak to all the fathers on this subject.
"We know that fathers find asking for help harder than mothers," he wrote. "Less than a third of fathers say they believe that the emotional needs of their children is a fundamental priority. It is often said that fathers can often find it hard to talk about their own feelings so there's no wonder they struggle to speak to their son or daughter about the topic."
A recent survey by the CDC estimates that 13 – 20 percent of children will deal with a mental health disorder in a given year. The Prince ended his letter challenging fathers to open up and make their child's mental health just as a high of a priority as his or her physical health.
"So on this Father's Day, I encourage all fathers to take a moment to ask their children how they are doing. Take the opportunity to discuss how you are coping with life and fatherhood with your wife, partner or with your friends. And know that if your son or daughter ever needs help, they need their father's guidance and support just as much as they need their mother's."
Read the full letter here.