As the super hot police cadet Valerie Spencer on General Hospital, Brytni Sarpy has perfected the art of turning her inner conflicts into love triangles that torment her cousin Lulu Spencer in a most painful way—Yes, Valerie ends up in bed with Lulu's husband Dante.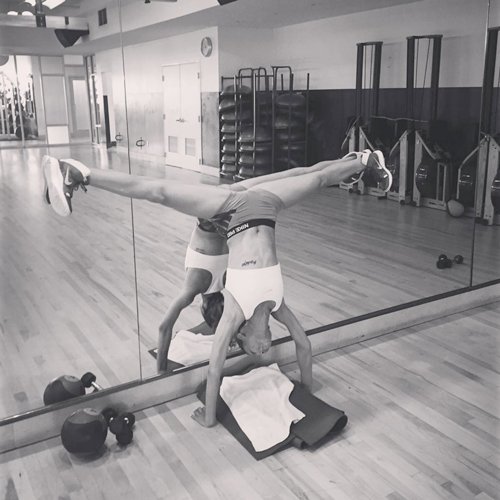 In real life however, Sarpy takes her health seriously, with a twist of fun of course. There's a method to why she sports such a hot bod. "I love working out, it's not a chore for me," says Sarpy. "Any exercise I do is something I enjoy doing. I think it's important to find your fun in working out, when it starts to feel like a task you treat it like one, and often times tasks are under prioritized, pushed back, or uncompleted altogether."
It's more than having fun though. It starts with Sarpy's ethos to move more than just one part of her body at the same time. "I always gravitate towards workouts that involve full body movement," the star says. "I work my major muscle groups simultaneously, typically in the gym. I'll do say three sets, and vary the reps depending on the exercise. I like using TRX, resistance bands, bosu balls, medicine balls, gliders, and Vipr exercise tools. Using these enables you to work more than one muscle group at a time, and almost all of them involve core strengthening."
So that would be a 'no' to sedentary machines at the gym. Which may or may not come as a surprise, but the idea that she thinks burpies are "awesome," is what got us! A lot of people cringe at the thought of them, especially if you have to add a push up in between. Perhaps it's her dance background that encourages her love of full body movements.
"In high school I was captain of my dance team and started my day at 6.00am every morning," she says. "Then I did cross country/track training for a few hours after school. Other than the physical effects, exercise does great things for your metabolism, your mood and stress management."
We can't argue there! The endorphin rush after a workout is undeniable. Sarpy's discipline, however, extends into her kitchen also. "Basically my motto is to work out so I can eat what I want," she says, with a smirk. "With that said, I am nutritionally aware, I am a pescetarian (seafood and fish diet). I shop organically for the most part and try to eat mostly things that come from the earth."
But before you accuse her of being perfect, the actress fesses up that some foods are very too hard to avoid, like "donuts," the cheat sweet she admits to eating way "too often."
Instead of focussing on what she can't have or do, she likes to spend time working out in ways she enjoys. "I love cardio barre, it's great for fine tuning and sculpting," she says. "Hiking is also something I like to incorporate into my routine. Getting close to nature while raising your heartbeat is a win/win."