Your friends have all done it. Your hairdresser has done it. Your swimsuit-model-turned-mom-of-the-year neighbor (the one who suspiciously brought you double chocolate chip cookies as a "welcome to the neighborhood" gift) – she did it, too.
And now it's your turn: You've decided to train for a half marathon!
It can't be that hard, right? A little training, a sensible diet, and voilà: You can practically feel the sweetness of yellow gerber daisies brushing your cheeks from adoring fans as the crowd chants your name in the final stretch.  A photographer from NatGeo captures your final steps: a breathless moment depicting your gams of steel floating on the air like a gazelle racing through the tundra. It is instantly proclaimed "Photo of the Century." As you accept your gold medal, you are immediately whisked away to the negotiating table because the race sponsors want to name a Barbie doll after you ("RunnerGirl Barbie! Coming soon to a Target near you!"). But they have to wait because Marvel just called and wants to create a new superhero in your likeness. Her super power: crossing the finish line with lipstick and mascara still intact.
But let's not get carried away just yet. We need to talk about the bare necessities for your first half marathon. What do you really need for this race? Let me break it down for you in a few easy steps.
1) First, you need to find the right running shoes, and not for the sake of the many photo ops you'll inevitably be asked to do.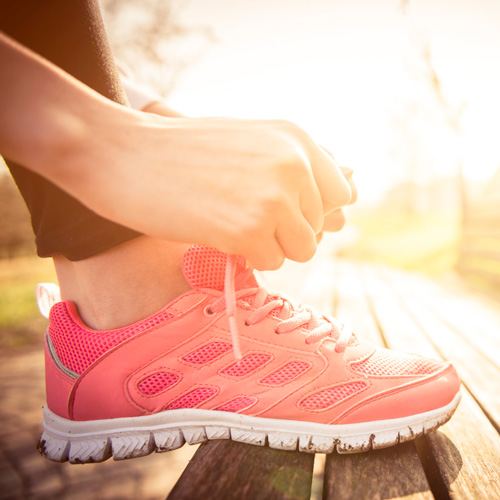 Without proper fitting shoes, you're dead in the water (err, trail) before you even start. Let me put it another way: Wrong shoes can lead to significant injury, which means no more running for you, which means next time you are at Target, RunnerGirl Barbie is modeled after your hot-mom neighbor.
Take my advice, as a self-proclaimed heifer who had to learn it the hard way: Go to a local running store and get fitted. You don't need to pay a team of scientists $500 to analyze video of you barefoot running on a treadmill. You need a running specialist (preferably from a serious athletic shoe store, not the teenager hang-out that specializes in checkered skater slip-ons), and they need to watch you run, analyze your step, and suggest proper shoes that suit your foot width, toe box, and particular pattern of compensation. This is key: Most runners have a tendency to either pronate or supinate, and you need to know which pattern you fall into. (I know what you're thinking, but fret not: Supinating in front of house guests is actually very common and not likely to stain the rug. Google it.) My point: You have to be fitted for good shoes. It's a must.
2) You're also going to need a good training plan if you really want to feel like a gazelle and not a gremlin by the time you reach mile 13. If you're new to running, I highly recommend the Couch25k program.
This program is designed for people who are completely new to running. I started running using this program, which comes in the form of an app on your phone: It has street smarts (yes, it knows the streets better than you or your geographically gifted husband). Plus, the lady's voice inside the app is very encouraging, kind of like that great-aunt who is always telling you how pretty you look. No, it won't remind you when your ponytail is dragging, but still: It's encouraging, systematic, and that is what you need.
Start with C25k and then once you've graduated from that, I recommend either of these half marathon training plans: Hal Higdon's plan is great for people who want an extra push and added training features, or you can check out this beginner's plan from Jeff Galloway, another running super-star whom you can trust. Both plans are designed to build your mileage up slowly, which allows for active recovery on non-running days. Without a good training plan, race day will come, and you won't be ready.
No train, no gain. And that means no humble bragging rights on social media.   
3) Another utter essential for your first race is choosing a training route that works for the course you're actually going to run.
Do some research ahead of time; know the course. Knowledge is power, people. Does the course have hills? Where are the aid stations with water, nutrition, etc.?  Go to the race website and read about it in advance. Ask questions on the race forum. Knowing your attack plan is fundamental so you can avoid unnecessary hiccups on race day. Surprise hills from mile 9-12? No bueno! Eject! Eject!
You wouldn't go to your kid's baseball game without your favorite scrunchie and a Diet Snapple (or three), so don't be the runner who doesn't know what you're up against on game day.  It can really hurt your psyche if you're already struggling, and all the training in the world won't matter if you're mentally drained by mile 8. You need every advantage you can get, and knowledge of the course is like a hammer in your toolbox: it's essential.  Surprises are great when you're at the cash register and the bathing suit you want is 40% off;  surprises are not great on race day.  Do everything in your power to avoid them.
4) Lastly, prepare for race day.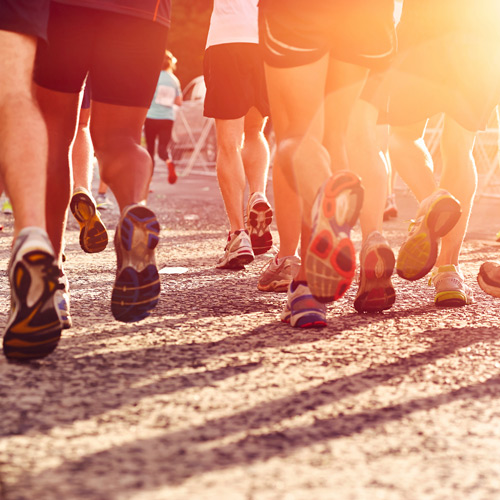 One, wear comfy clothing that is tried and true. Do not wear anything new even if you found the most fabulous cow-pattern onesie the night before. Chafing is real, people, and it's a four-letter word. Lay out your race-day outfit the night before, including every detail: socks, hydration belt if you use one, earphones, body glide, and your race bib, complete with safety pins. Make sure you know where to park on race day, where to have your cheering crew meet you after you've placed first in your age group, and where the port-a-potties are. Because if there's one lesson to be learned from the book "Everyone Poops!" it's that you'll definitely want to handle that prior to the start line if possible.
So now what? You have your shoes, your training plan, and your knowledge of the course. You've trained, sweated (err, perspired?), cursed, and maybe even tripped over a rogue branch or two and kept on chugging. The only thing left to do is enjoy the race. Remember: This is YOUR day! This is YOUR race! Go out there and enjoy every step, knowing that you're ready.
And be sure to smile when you see race photographers, because your first half marathon finish photo is truly special even if it doesn't make the cover of NatGeo—even if the baby hairs framing your face make you look like you got into a fistfight with a wild heifer on the course.
In fact, don't worry about how you look at all; you can always take a selfie with your medal after the fact and revel in the knowledge that you are amongst the finest half of ONE PERCENT of the population of the United States that has completed a half marathon.
That is something epic worth talking about on social media for many Throwback Thursdays to come.
Questions? Feel free to "ask the heifer" by tweeting her @MelissaKahn7 or on her Facebook page Run, Heifer, Run!