Around 100 kids with Autism are a part of a new program at Stanford University which uses Google Glasses to help the children understand emotion, NBC reported.
Reading and understanding human emotion is one of the bigger challenges for those suffering from the neurological disorder. Google glass uses facial recognition, developed by Stanford, to alert the child of what type of emotion another is feeling so they can more appropriately respond.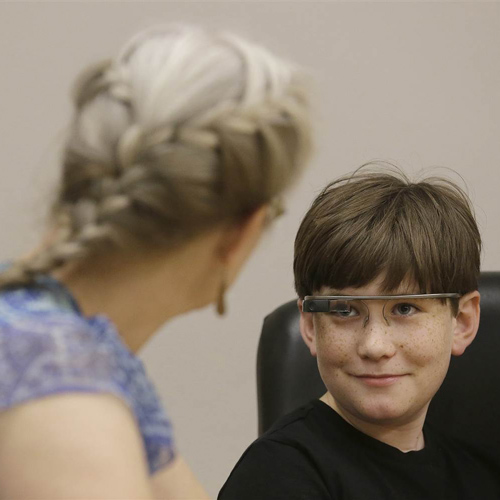 The study will test how effectively the children will respond to this type of assistance and whether or not it helps those with autism better socialize with others. The children wear the device every day for three 20-minute sessions spent interacting face-to-face with family members over board games or meals.
The Google glass is connected to a smartphone which records the sessions. When the camera attached to the Google glass uses its facial recognition to detect an emotion such as happy, sad, frustrated, etc., the word of the emotion and a corresponding emoji pops up in a small screen display just above the right eye, seen when wearing the computerized headset.
The technology which runs on Google glass was developed by researcher Nick Haber and Stanford student Catalin Voss who was inspired to create this technology for her cousin who suffers from autism.
"We had the idea of basically creating a behavioral aide that would recognize the expressions and faces for you and then give you social cues according to those," Voss told NBC.
Currently, many children with autism are taught to read emotions by using flashcards of different emotions, and asked to identify each emotion. The technology within the Google glass incorporates this same behavioral therapy in real-time engagements.
Google Glass public release in 2014 wasn't received very well due to high costs and privacy concerns. Though, in December of last year, Google filed a new application with the FCC.
There are an estimated one in 68 children that are diagnosed within the spectrum of autism disorder, and many see this type of technology as the future of behavioral treatment.