Whether you're just starting to get into health and fitness or you've been a fanatic for decades, you should be following fitness icon Alicia Marie. What makes her so iconic, you ask?
Well, if you haven't heard of her yet, you've probably already seen her somewhere on the 80+ fitness & health magazine covers she's repped world wide, or on MTV's MADE as a fitness coach, or decked out in sexy cosplay costumes at Comic Con. If that's not enough to make her a babe of all babes, she also has a degree in neuroscience and studied broadcast at the prestigious Columbia University. Wipe your drool.
That's not even the half of it when it comes to Alicia's accomplishments. So what the heck does this woman eat for breakfast?! We found out. Because though her days are jam-packed with being awesome, her tips and tricks are not out of reach. You can have a one-on-one conversation with her on TipTalk – the app that connects you to your favorite influencers – just like we did.
With a resume that you need a scroll for, Alicia could be doing almost anything she wants, so we asked her:
Why Fitness?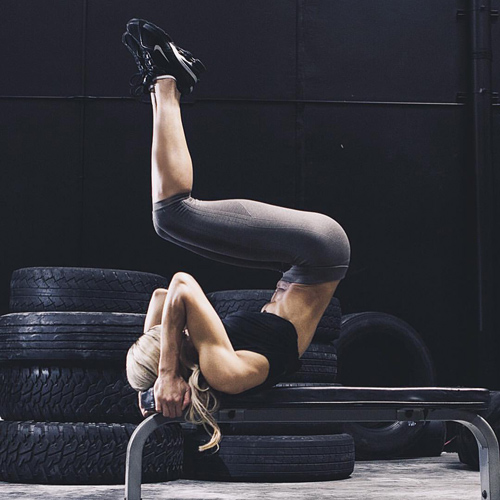 We know she's a hard worker because she responded at the end of her day which was… wait for it… 2:35am!! The night before, she responded after she finished a client's program at 4:28 am! Let's all just soak that in for a second….
Anyways, this is what she said:
"I've always been fascinated by the human machine. My love of how the body functioned; how we live, breath, how we MOVE, played a big part in what made me happy growing up. Not to mention – I wanted to look like a superhero – still do. I like being a motivator. If by getting to the gym at 12 midnight because that's all the time I have, inspires someone out there to get their own grind on, then I feel I've won"
Yes, she is winning, she is motivating, and she is pseudo health coaching us all right now by sharing with us her…
Nutrition Tips
We asked Alicia what she uses to make healthy foods taste good. Here's what she had to say:
"Can you say SALSA???  The fresh kind in Whole Foods or Gelsons… not the high-sodium jarred ones"
She recommended spices at www.flavorgod.com before mentioning that a dash of himalayan salt is amazing, and since it tends to be higher in flavor than regular salt, you just need a dash.  
Since many complain that health food is dry, she juices it up by putting blueberries in her turkey meatballs and applesauce in her protein pancakes which she takes with her in ziploc bags before leaving the house sometimes. And, one more thing we've all learned to know and love…
"Coconut oil. Woooo yes please!!!" Alicia wrote before sharing with us…
The BEST protein pancake recipe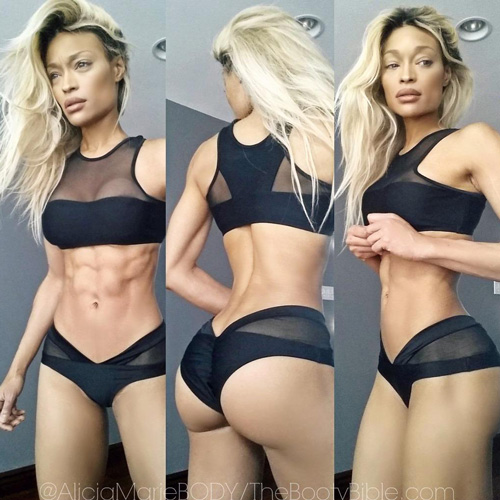 1 scoop of dry oats blended into smaller bits, mixed with

2 egg whites

1 cup of unsweetened applesauce

1 cup of protein powder (she uses the one from

Sexy Nutrition

)

Topped with blueberries or cinnamon
The protein is needed for the 5 days a week she works out.
Alicia's Favorite Workouts
For cardio she writes:
"PLYOJAM – dance cardio. Otherwise I default to the stepmill. Toning plus major sweat action. So good for your legs and glutes… Basically I never met a staircase that I didn't like,"
For strength-training she writes:
"Romanian deadlift!!! Glutes on fire. Those and hip thrust bridges on a bench."
If like us, you haven't had enough of Alicia's motivating tips and tricks yet, you can follow her on Twitter, Instagram, or Facebook. For direct access, you can have a one-on-one chat with her like we did on TipTalk.