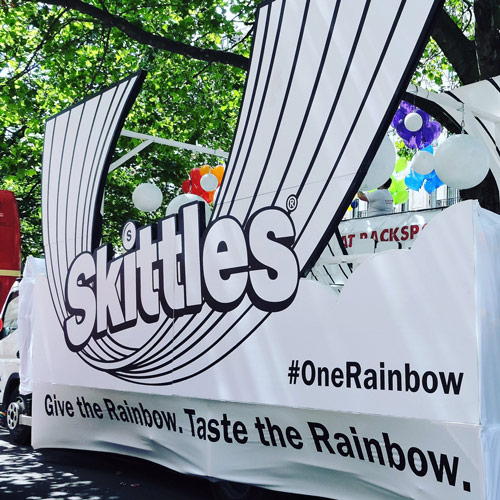 We've all cringed at the sight of big brands that bandwagon a cause for the sake of more sales but once in awhile they do something truly thoughtful….
In a pledge of solidarity and support, Skittles gave up their iconic rainbow branding for LGBT Pride month in London. Their packaging, a parade float and even the little pebble shaped candies themselves have been robbed of all color to drive home the fact that there is only one rainbow that matters this month.
Related: Women's Health History Made in NYC: Free Tampons for All!
The company penned a cute letter explaining their reasoning:
"So this is kinda awkward, but we're just gonna go ahead and address the rainbow-coloured elephant in the room. You have the rainbow … we have the rainbow … and usually that's just hunky-dory. But this Pride, only one rainbow deserves to be the centre of attention – yours. And we're not going to be the ones to steal your rainbow thunder, no siree. That's why this weekend, we're giving up our rainbow. But don't worry, we'll still be there to celebrate every colourful minute with you, we'll just be completely starkers while we do it. Have a great day, Pride. From Skittles."
Read: Prince William Pens an Inspiring Letter Tackling Mental Health
Big brands have the power to shed light on an issue, bringing attention to something that may otherwise have been forgotten. Yes they stand to capitalize off it, but when the proper care is put into it both parties win. "Give the Rainbow. Taste the Rainbow!"