It's a situation people often fear: sitting in a doctor's office and hearing the word "cancer." The predicament is frightening and difficult to prepare for in any case. For HGTV's Christina & Tarek El Moussa, they have 'flipped' Tarek's cancer diagnosis for the better and have done so in the face of a most trying time for their family.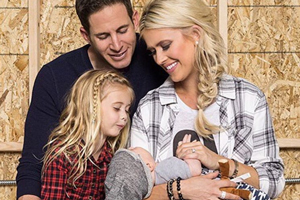 In June 2013, Tarek's life changed when a viewer watching him on his hit show Flip or Flop noticed a lump on his neck. This prompted the couple to seek medical advice that ended in the discovery that the viewer was right. When Tarek was finally given his diagnosis in early 2013, he was bewildered but determined. "What went through my mind is if I die, what is my family going to do?" he says. "That motivated me to do whatever it takes. To fight and be strong, not be weak, not be too emotional. Keep working and just keep going on with life."
That's exactly what Tarek did. After being diagnosed, he underwent iodine treatment and had his thyroid removed all within two months. A little over a year later, in July 2014, just one month shy of officially being in remission, he threw his back out playing golf. "The back was worse than the cancer!" Tarek tells Connectwithlife. "I went from 235 to 169 lbs! I mean, with the back I was literally sick. I looked like I was dying. That's one thing I tried to fight and I couldn't fight. The back problem was just unbearable."
Tarek explained further how restricted mobility can take a toll on your body and mind. "Recovering from the back surgery was brutal," he says. "For eight months I was miserable. I couldn't get in and out of my car right, I couldn't put my pants on, I couldn't put my shoes on. I literally couldn't do anything."
Little by little, day by day, he fought for his health and with the help of Costa Mesta based trainer, Quinton Tucker things got a lot better. "I went through three months of hell and then I hired a trainer/therapist and three weeks after meeting him, I had improved like 200%. He changed my life. He did a really good job. If it wasn't for him I wouldn't be where I am today."
The support of a professional really helped change Tarek's body and mind. "I was ready to throw in the towel. I was in pain, upset and unhealthy. He brought me back to where I should be," says Tarek.  "My brain was fuzzy, I wasn't really happy, it was really tough. It was therapy, he was really good at what he did. He had all my pressure points, he knew what exercises to do to relieve strain and he helped me work on my diet.
It's more than just exercise that went into Tarek's healthy body and fine physique—yes he has abs now! "After you get cancer your body is just so jacked up," says Christina. "It's really hard to feel well. So I think it's very important to take care of your body as far as eating extremely healthy."
So to help, Christina enlisted nutritionist Cara Busson-Clark.  "Christina contacted me initially because she was emotionally and physically exhausted," says Busson-Clark. "She knew she made healthy food choices for herself, but really wanted to make better choices for the whole family. She also needed more energy to endure her schedule and the high and lows in her life with Tarek's health.We planned the meals according to his needs and restrictions."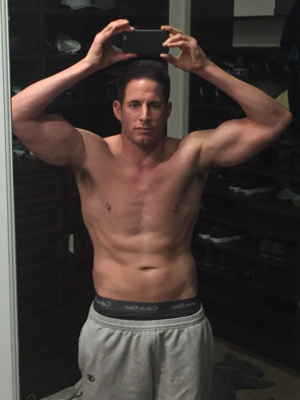 What exactly does that mean? "They perform iodine treatment for thyroid cancer, so afterwards for about 2 weeks, they had to stick to low iodine foods," says Busson-Clark. "It was really important to avoid dairy products, sea salt, etc because of the iodine content and get them on a whole, real foods diet."
The ultimate goal was to boost Tarek's quality of life with a healthy diet. "Processed foods, refined sugar, artificial additives, preservatives are all extremely important to avoid when trying to boost your immune system after a battle with cancer or un-jacking so to speak," says Busson-Clark. "We focussed on eating the proper rations of carbohydrates to fats and proteins. Eating the proper ratios will help to keep blood sugar healthy, which is the best way to increase energy. Getting energy from nutrients in the form of whole food is the best way to heal a beat up immune system."
The relationship of food and stress to cancer is strong according to Busson-Clark. "Diet is essential to staying in remission and keeping our bodies free from disease and cancer," she says.  "While the FDA continues to approve artificially, factory made junk food, these foods continue to promote more disease and distress to our bodies. The better we fuel, the better we feel mentally, physically and emotionally. I talk a lot about feeling better emotionally because high stress levels can even cause acidity in our bodies by releasing too much cortisol, which can also lead to triggering underlying cancer cells. Bottom line for most food is if it's not making us better, it's making us worse. Pick your poison!"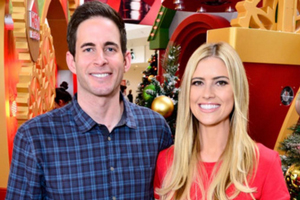 Christina and Tarek took this advice seriously even though it wasn't always easy to fit in with their shooting schedules. "We're always on the go, constantly being forced to eat out while we're filming, but eating out is not really a healthy option, especially when you have cancer," Christina says. "It's very hard to find healthy, whole foods, especially in the areas we film in. Cara gave me a lot of really helpful information as far as dieting. After that she took into account Tarek's weight and developed a plan for him based on calories and certain foods, I started to prepare our lunches and bring them to set and put them in the cooler and everything."
As a result of their hard work and perseverance they now enjoy a healthy lifestyle that has made it even more of a joy to raise their five year old daughter Taylor Reese and four month old Brayden James.  And at the end of the day, for this couple, it's all about family. "You need to figure out why you need to fight it. Why you need to be positive," says Tarek. "There are people in your life that need you, you can't quit on them, you know? You don't always do it for yourself you do it for everyone around you and everybody who loves you."
With reporting by Raha Lewis