Raise your hand if you feel overextended on the daily…
I suspect most moms reading this can relate to not having enough time to shave both legs on the same day after a full day of work. And by work, I mean both the revenue-generating activities and all the delightful extra-curriculars, like: playing chauffeur for four hours, taking the dogs on a walk (whatever happened to: "Mom, we promise we'll take care of a new puppy, and you won't have to do anything!"?), and feeling the pressure to prepare a home-cooked meal worthy of at least 10 re-pins on Pinterest. You're so not alone.
In fact, you're in great company. Most women find themselves somewhere between overworked, overwhelmed, and "stick-a-fork-in-me-I'm-DONE" when it comes to managing all of life's responsibilities. If you find yourself thinking, There has to be a better way!: You're right. And the better way is called: freezer cooking.
What's that, you ask? Well, pull up a chair, a few 9×12 aluminum pans, and be like Vanilla Ice: Stop, collaborate, and listen. Ice has never been so cool.
Freezer cooking is no different than everyday cooking, except it's done specifically with the goal of freezing it for use at a later date. Freezer cooking is a mindset: Think of it as insurance for your daily cooking routine, or as a revolutionary way of saving time and money. Either way, incorporating freezer cooking into your life can renew your sense of control, no matter your family's brand of chaos.
Soccer practice tonight? No worries. You are one step ahead, and you don't even wear cleats. Last night, you defrosted a freezer meal and all you have to do is heat it up when you get home with your tired, stinky kids. Ballet practice, dog park, and PTO meeting tomorrow? No worries. You have that covered, too, because your freezer is chock-full of aaaaahmazing food that you made, yourself.  It's a little time consuming at first (but hey, so is getting your hair colored, cut, and dried, and that is also non-negotiable!). But once you commit to freezing your family's meals, you'll start to get the hang of it and referring to yourself as the Freezer Queen (aka: Elsa's "cool" aunt) in no time.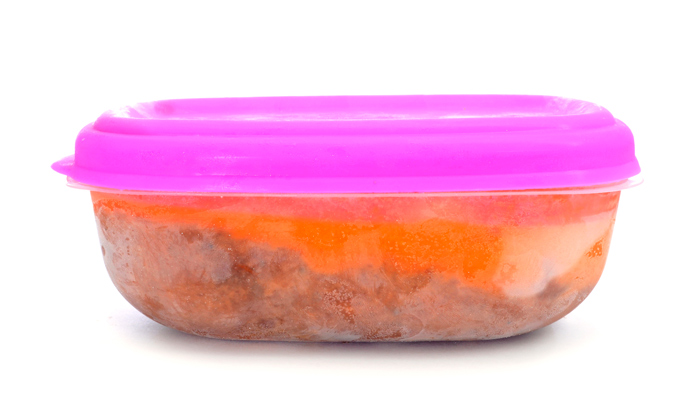 Your starter kit should include things like disposable 9×12 aluminum trays (I buy mine at Costco, they're a lot cheaper there than at the grocery store or WalMart), lots of plastic wrap, tin foil, a dark magic marker to label your items (stickers sometimes come off after freezing), and the ingredients you plan to use for your culinary masterpieces.
Start the planning process by thinking of a few meals your family likes to eat. If you're pressed for ideas, consider Mexican Stuffed Shells. I can personally attest to this being one of the biggest hits in my home, right after my performance of "Build Me Up, Buttercup" using a strainer spoon for a microphone. Pasta dishes are great recipes for starters because, when you're cooking a freezer meal that call for pasta, you can get away with parboiling it because you'll finish cooking it up on dinner night. Once you've parboiled your pasta shells, they're the perfect stiffness for you to handle without being all, well, noodle-y. (If you're worried about stickiness, add a little bit of oil into the water as you boil them.)
If you like the Stuffed Shells, be sure to check out the rest of the website, "The Girl Who Ate Everything".  It is an amazing resource for recipes. Some seriously good desserts there, too. Not that I've made every one of them. And keep an extra stash of tiramisu marked as "Brussels Sprouts" for personal use. Ahem.
But let's get real here: the true power of freezer cooking isn't limited to noodle hacks and secret stashes. The best part of freezer cooking: BULK VOLUME, baby! You buy socks, shampoo, and toothbrushes in bulk. Why not cook in bulk, too? You can cook healthy food for your family at a fraction of the cost when you're cooking large quantities, and without all the added preservatives and chemicals that most prepared frozen food contains. You can buy all the healthy, fresh ingredients for your family's favorite manicotti dish once a month, or you can buy five times the ingredients from Costco once every six months, and get the biggest bang for your buck.
Not to mention your time. You're already cookin' up one; why not have four more ready in the freezer? You don't have to eat one each week: Freezer meals will keep over 6 months in your freezer. So, if we're talking manicotti, pick up a couple pounds of low-fat cheese, a box of high-quality tomato sauce, and a full, oversized bag of spinach and BOOM. A few hours later, you not only have one freezer meal, you have FIVE. Think of paying it forward – to yourself. The best part: Your family won't know the difference between a meal you prepared that day and the meal you prepared three months ago a
nd simply heated up. If a freezer meal is good enough for the Freezer Queen to feed her royal court, then it's good enough for any hungry family after a night of homework, ball practice, and dance recitals.
Eating healthy does NOT have to be difficult. Did you know you can freezer-prepare things like crock-pot meals? All fresh food, frozen to perfection; and all ready to go when you're ready to drop it like it's hot (in the crock pot). And let's be real: That's one of the perks of the job as Chief Cooking Officer of the family— getting to decide what you want to eat on which day.
For a freezer meal that's crockpot ready, allow me to suggest the Cilantro Lime Chicken recipe, shown here… Everything in this recipe can be bought fresh or grown in your own garden (minus the chicken breasts and frozen corn, and let's be honest: you'll want to leave those to the pros). You can add or subtract ingredients to reflect your family's preferences. And hey, preparing one meal means you have all the ingredients on hand to cobble together a few more, so why not throw some prepared meals into the freezer for future use when you're having one of "those" nights. (Oh, and speaking of "cobble," this make-ahead frozen berry cobbler is great for unannounced visits from the in-laws. Trust me; you're going to want carbs that night.)
Another benefit: Freezer cooking is going to reduce your reliance on eating out, too, which as we all know, is the culprit for added calories that you didn't plan to eat. You know, the inexplicable calories that somehow turn into belly fat. You won't be tempted to eat a milkshake-that-comes-with-an-extra-milkshake-on-the-side if you're nowhere near Red Robin (cue the "yummmmm" melody here!). And you won't be tempted to dig into a basket of deliciously fatty seasoned chips as an appetizer at Famous Dave's if you're enjoying a delicious homemade chicken curry, heated fresh from the freezer, at home with your family.
There are many websites dedicated to freezer cooking, so you are sure to find lots of great recipes: make a list, stash them in a binder, and on those rainy fall days coming up, plan a few cooking days. Or go the extra mile and organize a freezer-cooking circle, in which you swap a few of your homemade aluminum pan creations with your neighborhood friends. Your budget will thank you, your body will thank you, and I'm certain your family (and mother-in-law) will thank you, too.  
Once you discover the magic of freezer cooking and channel your inner Freezer Queen, the stress of daily cooking will be a thing of the past, and you can finally be like Elsa and let it go!  
Find more health, fitness, and cooking tips by following this heifer on twitter @MelissaKahn7, her website www.runheiferrun.com and on her facebook page  Run, Heifer, Run!