How many times have we heard the expression, "when you rescue a dog, it's actually rescuing you." Well for those of us who might be contemplating rescuing a furry friend, we can gain a little more encouragement from dog expert and creator and host of CW's Save Our Shelter, Rocky Kanaka. There are many ways we gain joy from owning a dog, but Kanaka gives us three specific ways a rescue dog will change your life for the better.
1. Improve Your Diet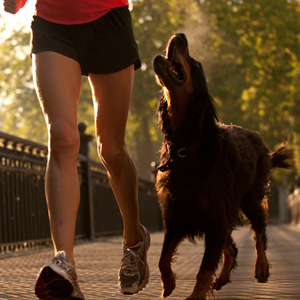 For starters, you have to figure out what to feed the dog. "Whenever you rescue a dog, you go on a journey in finding out how important nutrition is," Kanaka said at The All Star Dog Rescue Celebration that aired on Thanksgiving on Fox. "When you're feeding your dog, lets say you feed it my dog food, Dog for Dog, it's natural. You start going, 'hey wait a minute, I need to be fed the same thing. I can't be swinging by a fast food joint and be giving my dog healthy food.'"
And you thought social comparisons only applied to humans!
2. Improve Your Exercise Routine
Once you have figured out how to 'feed' healthier, you will also have to reassess your dog's workout routine. "A lot of rescue dogs are either underweight or overweight, so fitness with your dog is so important because you've got to get them balanced out," Kanaka told connectwithlife. "In this way, fitness is an important part of my life too. I have a boxer and when I first got him he had atrophy in his paws, he was a rescue and he couldn't do anything. Well now, he runs at least five miles with me every time I go running."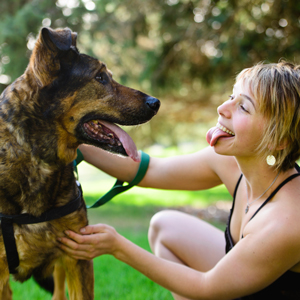 3. Become Emotionally Happier
Diet, check! Exercise, check! But it doesn't end there. According to Kanaka, focusing on loving a rescue dog mends your soul in so many ways. "I can speak from personal experience," says Kanaka. "With all the dogs that I work with and the dogs that I get rescued out on Save our Shelter, when I go back and I check with those families, that is always the case. They're the ones that have been emotionally lifted up and they formed a bond that you just can't find anywhere else."
Feeling like you want a new diet, exercise routine and love in your home?  Well, there are plenty of websites (like animalcenter.org and adopapet.com) where you can search for dog shelters in your area and pay them a visit. A move that might end up giving your life a complete overhaul for the better.
— Rocky Kanaka is the founder of Dog For Dog, the natural dog food company that donates a bag of food to a shelter for each bag sold.  If you want to feed your dog natural food and help feed a dog in need, DOG for DOG is now available nationwide at PetSmart.  You can also catch Kanaka on Save Our Shelter on the CW (check your local listings).
Check out Rocky's Instagram, Facebook and YouTube channel.