World hunger and climate change have the UN urging humanity to shift to a vegan diet and a lot of people are trying to figure out how to make the transition. Danny Trejo, everyone's favorite tender-hearted tough guy has his own delicious solution, a Taqueria with primarily meatless tacos (bar one or two for the meat-eaters) called Trejo's Tacos.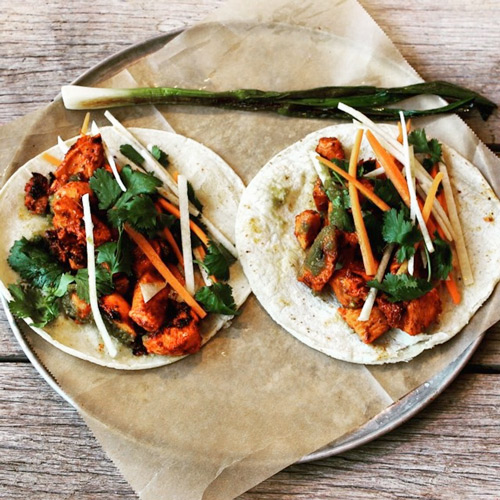 Trejo, who spent 11 years in prison and many more fighting addiction has been on a mission to give back after achieving such great success in his personal life and as a Hollywood actor. Danny is also an animal lover with 5 rescue dogs, so a mostly-vegan taqueria wasn't a stretch for him. But he took it even one step further, and decided that he wanted to help the community around him by making sure any leftovers are donated to a local homeless shelter.
The menu consists of 10 different tacos with delicious options like the Austin Style Fried Avocado or the Black Pepper Tofu Taco. You can also find gluten-free, vegetarian and fried chicken taco for those who aren't ready to embrace the vegan life. Restaurant goers will note though, that the tacos that include meat, are definitely the exception to the norm at Trejo's.
If you're thirsty Danny has a lineup of amazing homemade beverages with everything from date-sweetened horchata, aguas fresca and Trejo's very own coffee roasted by Zona Rosa in Pasadena.
So vegans rejoice because we can't think of a better vehicle for vegan ingredients than a taco. The ingredients are bite size, slow cooked and bursting with flavor, so who cares if it isn't meat right?
As the world's population grows, more attention has to be paid to how we get our food. According to the USDA, 1.5 acres of land in America can produce about 375 pounds of meat while the same amount of land can produce 37,000 pounds of plant based foods. There is no question that a more plant-based diet is in our future so we're just glad Danny Trejo wants us all to be apart of it.