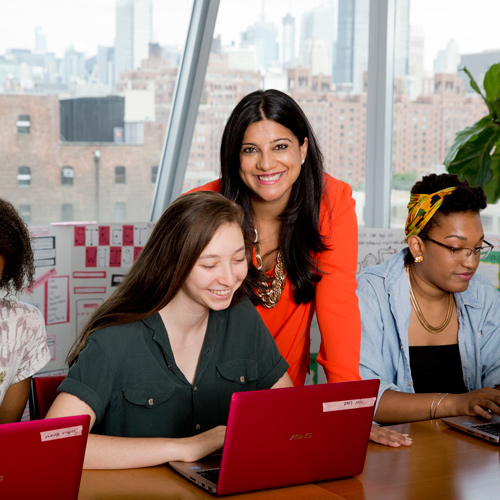 Reshma Saujani started off her TED talk by admitting that one of her greatest failures in life was running for congress in New York. She made this confession not to highlight what a poor decision it was to run, she highlighted it because it was the bravest thing she had ever done. "I tell you the story of how I ran for Congress because I was 33 years old and it was the first time in my entire life that I had done something that was truly brave, where I didn't worry about being perfect." said Saujani. This became the theme of a very enlightening TED talk about teaching women to be brave.
Reshma, who is now 40, later started a company called Girls Who Code, which teaches girls how to do just that. But the company does so much more for women. It works to undo the strong social structures that have been built around females—mainly the one that pressures them to be perfect.
"Most girls are taught to avoid risk and failure. We're taught to smile pretty, play it safe and get all A's. Boys, on the other hand, are taught to play rough, swing high, crawl to the top of the monkey bars and then just jump off head first." says Saujani, who points to this socialization of girls and boys as being the root cause of a modern woman's fear of being imperfect.
The trial and error process of coding requires these girls to admit imperfection and Reshma believes this can empower girls to be braver. Other companies have recognized this as well and have become partners with Girls Who Code. Twitter, Facebook, Adobe, IBM and Pixar are just a few of the companies that think it's time we taught our girls to be brave. So do we!