Greg Louganis is an American hero.  The athlete who recently posed nude for ESPN's body issue, is a rockstar, who won four olympic gold medals in the 1984 and 1988 Olympic Games combined, in the 3m springboard and 10m platform divisions—this despite suffering a world-famous concussion in the preliminary rounds in 1988 in Seoul.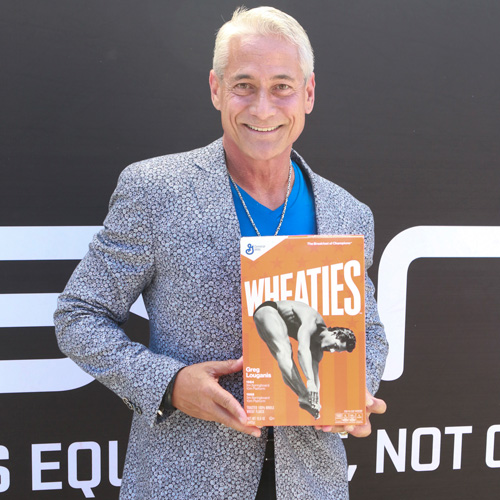 What you may not know though, is that Louganis' first Olympic presence was in 1976, where he won a silver medal for the United States in the 10m platform diving division at the Games of the XXI Olympiad in Montreal, Quebec, Canada. And today, 40 years later, he has been honored with the highly coveted picture-on-the-Wheaties-box for his achievements.
Though you may be wondering, what took them so long?  Louganis sees this as the perfect time. "This means so much to me because I am so much more than just an athlete," Louganis told connectwithlife.com at his Pre-ESPY Awards Wheaties Breakfast for Champions event at the Starving Artists Project Sponsored by SKINS on Wednesday. "I love that I have been able to feel embraced as a whole person. My sexuality, living with HIV and mentoring are things that have propelled me to a new sense of self worth and love, allowing me to see so much more beauty in others."
Seeing the humanity in others is indeed a timely concept with so much violence occurring worldwide due to the lack of human acceptance. From Sudan to Dallas, Texas, there seems to be a need more than ever, to accept each other for who we are and not for the inaccurate stereotypes that have been incorrectly accepted as truth, by any pocket of the population.
Louganis believes that education is key and that it's time to see each other for who we really are, members of one family. "I really feel like that is what the world needs," said Greg. "To see the beauty in others."