Nicole Stuart is a celebrity trainer based out of West Hollywood, California. She is well known for her creative style of Pilates that incorporates yoga, dance moves, stretching, and cross training. To help her workouts reach more than just the stars, she recently came out with an app called QE2 – filled with celebrity checked, quick and easy exercises. The app includes ten minute targeted workouts for all parts of your body. You can do the workouts wherever you are as long as you have your phone in your pocket.
The inspiration behind the app comes from Nicole's A-List celebrity clients who do the same routines whether at home, on a movie set, or getting ready for the red carpet.
"I love Nicole's app. I take it with me wherever I travel. It keeps me in tip-top shape," said Kate Hudson.
As we all know Hudson has an amazing physique and she takes pride in her workouts. Now, the A-list workout that Kate Hudson lives by can be right in the palm of your hand. Preview some of the exercises in the video below:
It's convenient for anyone with a busy schedule or someone who is constantly on the road or traveling for work. Getting a gym membership, or making time to get into the gym or work with a trainer is not ideal for a lot of people's crazy lifestyles. When you have the option of getting a great workout right from your phone,  you really have no excuse to make some time for it during the day!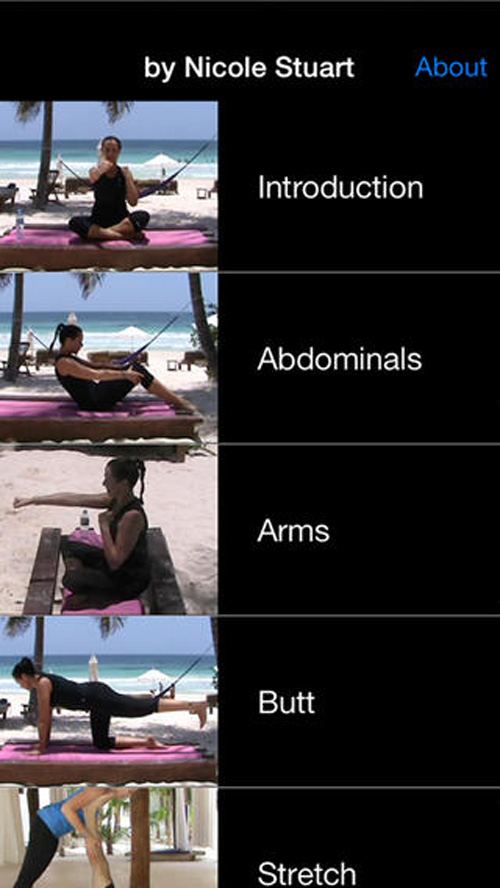 The app includes an introduction, abdominals, arms, butt, and stretching. Nicole walks you through every exercise making sure you are focusing on the right muscle groups and doing each exercise correctly. A lot of people who use the app like that Nicole does each exercise with you, it makes you feel as if you are not doing the workout alone. You have a teacher and motivator to keep you going throughout the workout.
For those just getting back into shape and do not want to be seen in the gym or by a trainer because they are embarrassed to do so, this is a great way for you to ease back into working out. You can do it in the privacy of your own home, struggle on the exercises that may be easier for some, and get better at them on your own time.
Nicole has been called the 'master motivator', which is why so many people enjoy using the app. The ten minute targeted workouts make you feel the burn, and if you do them consistently you will undoubtedly begin to see results as you gain strength, get toned, and build definition.
Nicole focuses on moderation and consistency within her app, without the use of weights or any other equipment. She emphasizes on perfect form throughout each workout, because that is how you will see results – focusing on your position at all times as she guides you through every step of the workout.
If you are someone that doesn't have time for the gym, or a trainer, or maybe you just do not like either, QE2 might be beneficial for you. It costs less than both a gym membership and trainer, and you can do it wherever you may be. Exercise should always be incorporated into your weekly schedule to keep yourself healthy; QE2 might just be the missing piece to your workout regimen!
The app is available on iTunes for $8.99.